781 Fifth Avenue
Experience the exclusive ambiance, private setting, and uparalleled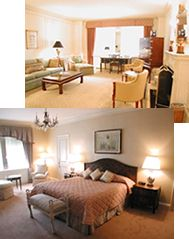 personal service that distinguish The Sherry Netherland, the landmark choice of Central Park hotels. Topped by an elaborate Gothic minaret, The Sherry adds a note of drama and history to the Manhattan skyline. Just look for the signature sidewalk clock on Fifth Avenue that marks our entrance. From our exemplary European-style service- including full concierge assistance, elevator attendants, and valet parking- to our spacious and individually furnished accommodations, a stay at The Sherry has been an expression of privilege since 1927.
Since its grand opening as the world's largest apartment building in 1927, The Sherry Netherland has stood the test of time, reflecting the refined tastes and style of the world's most elite travelers. Today, this five-star New York City boutique hotel continues to sparkle with a luster undiminished by the passage of history. It is- in short- a timeless classic. Discover its exquisite architecture and appointments- from authentic Vanderbilt-mansion friezes to hand-loomed French carpets, from marble mosaic floors to custom-made chandeliers. Just a few of the fine amenities at The Sherry include:
World-renowned Harry Cipriani restaurant, located on our lobby level
Complimentary continental breakfast for two, hosted daily at Harry Cipriani
Snack emporium, featuring items from around the world
State-of -the-art fitness center
Celebrity beauty salon and barber shop
A La Vielle Russie, featuring rate antiques and collectibles
Domenico Vacca, a high-end collection of men's and women's clothing
Intimate lobby area, modeled after the Vatican Library
As the landmark choice of boutique hotels in New York City, The Sherry offers a generous range of sophisticated services, including:
White-gloved elevator attendants
Full concierge services
Preferred sports and theater tickets
In-room massage therapy
Shoeshine service
Room service, by Harry Cipriani restaurant
High speed internet access
Notary public
Valet parking and limousine service
For the best luxury hotel rates in New York,
call LuxuryHotels-NY.com today:
1-800-649-6331
or 1-603-823-9032
If you would like to reach us by fax (603-823-9089), please include your email address.
Please direct all hotel inquiries to: [email protected]
| Spanish Translation | German Translation |