www.marmara-manhattan.com

301 East 94th Street
n New York City, aptly called the crossroads of the world, The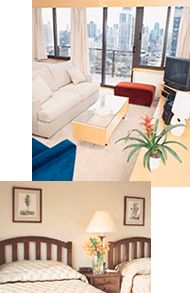 Marmara-Manhattan combines old world Hospitality with modern amenities and the most cosmopolitan of locations, for guests who wish to experience extended stay convenience amidst modern amenities and understated luxury.
The luxurious Marmara-Manhattan offers accommodations in studio, one-, two- and three bedroom suites for professionals, corporate relocations, individuals and families who seek a month or more of comfort and elegance in a quintessential New York City environment.
The serviced apartments offer the finest detail along with every necessity demanded by modern cosmopolitan living. The spacious rooms are bathed in sunlight. Many have balconies, with views extending the length of Manhattan Island, east, west, north and south. All are fully furnished, with every convenience, from completely equipped kitchens to wireless internet connections.
The Marmara-Manhattan is located in one of the City's most exclusive residential neighborhoods on the fashionable Upper East Side. Within walking distance are some of the City's most renowned museums, restaurants, cultural centers, hospitals and parks. The twenty-four hour concierge gives guests access to the leading restaurants, specialty shops, and public transportation in the city – all, just steps away.
AMENITIES & SERVICES
Modern kitchens with cooking/ serving utensils
Marble floors in kitchens and bathrooms
Spacious bathrooms with hair dryers, weight scales and other quality amenities
Electronic lock system
Web TV
AM/ FM cassette/ CD Stereo
Cordless telephones in every room
Multi function fax machines
Individual temperature controls
Large, double pane sliding windows
Terraces, Jacuzzis, washer/ dryer units in many suites
Large closets and ample storage space
In-room safe for valuables
Quality linens and towels
Valet trouser rack
Iron and ironing board
Quality selection of pillows upon request
Live plants
Complimentary welcome basket
Exercise room
Self service laundry facilities
Pets accepted- Some restrictions apply
SERVICES and SPECIAL FEATURES
Daily housekeeping
24 hour Concierge
Valet available for dry cleaning and laundry
Wrap- around roof terrace on 32nd floor
Art Gallery off lobby
High Speed Internet Accesss
For the best luxury hotel rates in New York,
call LuxuryHotels-NY.com today:
1-800-649-6331
or 1-603-823-9032
If you would like to reach us by fax (603-823-9089), please include your email address.
Please direct all hotel inquiries to: [email protected]
| Spanish Translation | German Translation |