150 East 50th Street from $199
Following a $22 million renovation, the San Carlos Hotel is one of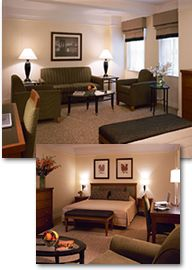 Manhattan's premier, four star hotels. It is an elegant, charming and stylishly sophisticated hotel. Perfectly located in Midtown Manhattan, the hotel offers an oasis of calm and tranquility in the epicenter of the world's capital.
Large and comfortable rooms are stylishly decorated with contemporary furnishings accented with tasteful artwork and soft color tones. Luxurious bedding and double glazed windows set the stage for a wonderful night's sleep. Deluxe rooms are equipped with pantries and the suites include a full kitchenette and dining area.
AMENITIES & SERVICES include meeting rooms and business center, Penthouse Terrace, Restaurant and Lounge, Fitness Center, Flat-Screen televisions, large work desks with built in Complimentary high-speed Internet access ports, dual telephones, CD players, Corby pants press, Aveda bath products, plush towels, bathrobes by Frette, and complimentary features such as mineral water, newspaper and Continental Breakfast and Turn Down Service.
For the best luxury hotel rates in New York,
call LuxuryHotels-NY.com today:
1-800-649-6331
or 1-603-823-9032
If you would like to reach us by fax (603-823-9089), please include your email address.
Please direct all hotel inquiries to: [email protected]
| Spanish Translation | German Translation |