New York City offers the service and elegance that you would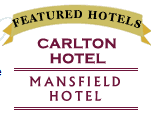 expect to find in one of the world's major capitols. Why not treat yourself to the best the city has to offer? Many of the hotels listed here have had extraordinary worldwide reputations for many years. Some are new, but they have been eminently successful in living up to the standards of their predecessors.
As our expectaions grow, so does the service at these fine hotels. If you spend some time at The Michelangelo, you may never want to leave.
And if you would rather devote more of your resources to shopping, theatre, concerts, and thousands of attractions New York has to offer, try a boutique hotel. From outstanding continental breakfasts, high style furnishings, in-room video and CD players – in fact, with about every amenity you can imagine – they give our travelers extraordinary value for their lodging dollar. They are small in size but large in style and comfort, and you will feel safe and at home with their cordial staff.
For the best luxury hotel rates in New York,
call LuxuryHotels-NY.com today:
1-800-649-6331
or 1-603-823-9032
If you would like to reach us by fax (603-823-9089), please include your email address.
Please direct all hotel inquiries to: [email protected]
| Spanish Translation | German Translation |