Official Website or Call 1-800-649-6331

152 West 51st Sreet
The Michelangelo has a luxurious feel of understated European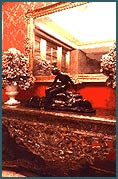 elegance. This boutique hotel possesses a classical flair throughout every facet of its operation, service and presentation. European artwork adorns both public and private space. Carpentry features original designs from the Renaissance period. Fine imported fabrics, including lush velvets and silks, are utilized throughout. The lobby at The Michelangelo is a magnificent space of Italian marble, original French paintings, custom rugs, a dramatic crystal chandelier, and unusual objets d'art.
Touches from Italy include classical music and opera in public areas, newspapers and an Italian Buon Di breakfast, as well as Baci Perugina chocolates at turndown. Many hotel employees are fluent in Italian, as well as French, Spanish, and other languages, making both domestic and international guests feel right at home.
The Michelangelo offers 178 guest rooms, including 55 suites. All rooms are elegantly designed with European ambiance, each decorated in one of three distinct themes: either art deco, country French, or neoclassical. Cherry wood furniture is punctuated with black accents and brass mounts. All rooms feature specially designed and woven fabrics imported from Italy, plus coffered ceilings and crown moldings. Guest rooms are among the largest in the city, averaging 475 square feet. Each room includes marble foyers, sitting areas, king size beds, two television sets, full-length mirrors and mini-bars.
Winter Special rates are available at the Michelangelo. Between January 1 and March 2, 2001: weekend rates (Friday – Sunday) start at $225, while weekday rates (Monday – Thursday) start at $285. So if you find yourself in New York City this Winter, whether on business or pleasure, look no further than the Michelangelo Hotel!
Click Here For The Michelangelo Hotel's Official Website
For the best luxury hotel rates in New York,
call LuxuryHotels-NY.com today:
1-800-649-6331
or 1-603-823-9032
If you would like to reach us by fax (603-823-9089), please include your email address.
Please direct all hotel inquiries to: [email protected]
| Spanish Translation | German Translation |